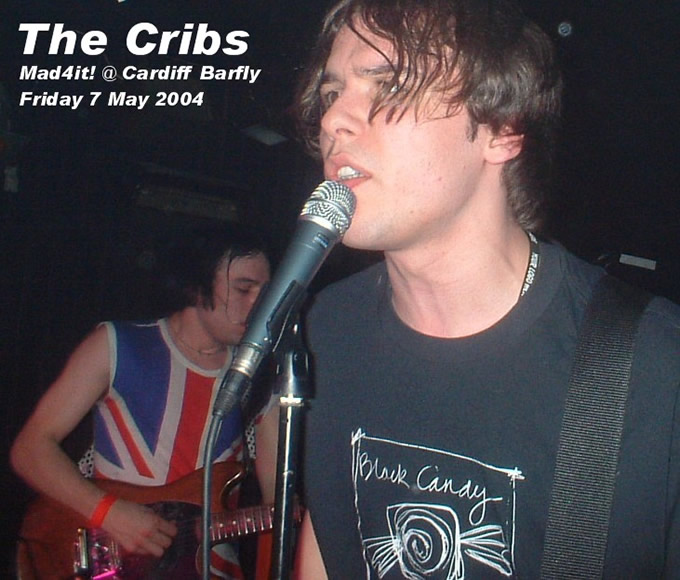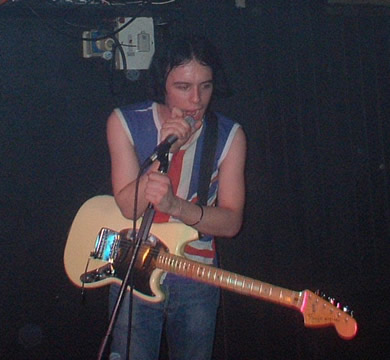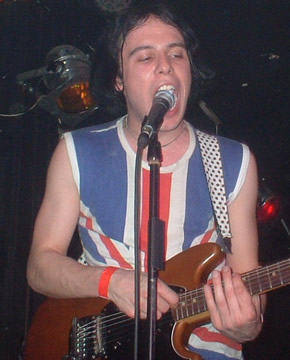 The Cribs took to the stage at our weekly Mad4it! Indie/Alternative Clubnight this week. Wakefield's most likely lads played a blinder sometimes without guitar strings. Mind you their guitars have been busy with Gary, Ryan & Ross having just finished dates promoting their new album as part of the NME Bratpack Tour, which also featured the The Zutons, The 22-20's & The Delays, to name a few. www.thecribs.com
Want something for nothing?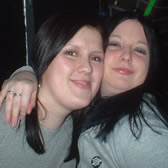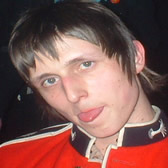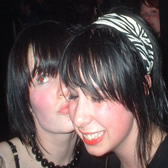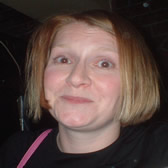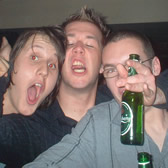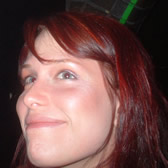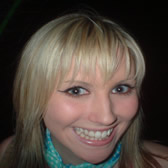 If you see your mugshot in the 8 frames directly above, print out your picture for free admission to next week's Mad4it! Clubnight - (smallprint - applies Friday 14th May only).
'ELLO, 'ELLO, 'ELLO, Greg Phillips, Rebecca McDonald, Jamesy's Mate, Nikki, Happy Birthday Gwennan lots of love from Jo, Happy 21st Ben James of Watershed, Happy Birthday Ryan Davies, Gavin 21 Today, Glesney, Happy 22nd Madia, Happy Birthday Mathew Jones, 'Ello Smurf The Original Mod, Clare Edge, Colum, John Tody & Richie!
Here's what you got on Friday 9th May:-

SANTA ESMERALDA Don't Let Me Be Misunderstood
LOSTPROPHETS Last Train Home
COOPER TEMPLE CLAUSE Been Training Dogs
VEILS Wild Son
MANIC STREET PREACHERS Motorcycle Emptiness
MUSE Stockholm Syndrome
ASH Burn Baby Burn
NO DOUBT Just A Girl
QUEENS OF THE STONE AGE No One Knows
RED HOT CHILLI PEPPERS Can't Stop
TENACIOUS D Tribute
STEPPENWOLF Born To Be Wild
THE WHO My Generation
KINKS You Really Got Me
DOORS Break On Through
CORAL Dreaming Of You
JET Are You Gonna Be My Girl
KINGS OF LEON Molly's Chamber
ELECTRIC 6 Gay Bar
LIBERTINES Up The Bracket
STROKES Someday
CLASH Rock The Casbah
UNDERTONES Teenage Kicks
BUZZCOCKS Ever Fallen In Love With Someone You Shouldn't Have
SMITHS This Charming Man
OASIS She's Electric
STONE ROSES I Am The Resurrection
JAMES Laid
REEF Place Your Hands
BLUR Parklife
FRANZ FERDINAND Take Me Out
WHITE STRIPES Seven Nation Army
DARKNESS I Believe In A Thing Called Love
RED HOT CHILLI PEPPERS By The Way
BLUR Song 2
GREENDAY Basket Case
JAM Going Underground
IGGY POP The Passenger
PIXIES Here Comes Your Man
HOLE Celebrity Skin
LIBERTINES Don't Look Back Into The Sun
WHITE STRIPES Hotel Yorba
OUTKAST Hey Ya
ROLLING STONES Paint It Black
BEATLES Day Tripper
DOORS Touch Me
JIMI HENDRIX Crosstown Traffic
LED ZEPPELIN Whole Lotta Love
STROKES Last Night
HIVES Main Offender
BLACK REBEL MOTORCYCLE CLUB Spread Your Love
RADIOHEAD Just
BLUR Country House
BREEDERS Cannonball
FOO FIGHTERS Everlong

We ran out of time or these would have been on too,

AT THE DRIVE IN
BECK Loser
BLONDIE Hangin On The Telephone
COLDPLAY Politic
DANDY WARHOLS Bohemian Like You
DEXY'S MIDNIGHT RUNNERS Come On Eileen
DEF LEPPARD Eternal Life
DOVES Pounding
GANG OF FOUR
GUNS n ROSES Sweet Child Of Mine
HAPPY MONDAYS Kinky Afro
I-MONSTER
INCUBUS Megalomaniac
JIMI HENDRIX Voodoo Chile
LEVELLERS What A Beautiful Day
NIRVANA Lithium
RAMONES Blitzkreig Bop
SMALL FACES Lazy Sunday
SNOOP DOGGY DOG
THERAPY Screamager
VAN HALEN Jump

Don't forget to pick up the new edition of The Fly magazine next time you visit a Barfly, the May Edition features HOPE OF THE STATES, GOLDIE LOOKIN' CHAIN, THE DELAYS and KEANE to name but a few.. and it's completely Free!
FUNERAL FOR A FRIEND WINNERS - Congratulations to our Mad4it! contest winners, Bethan Ingram, Sophie Saunders, Gemma Forde, Karen Thomas and Christos Georgennis who each win a pair of very special invitation only tickets to see Funeral For A Friend at a secret gig. A very intimate, sexy gig in Cardiff where they'll meet Matt and the boys, play Pool and drink and talk with them on Sunday 16th May. Sorry if you missed out but listen in to Amplitude on Red Dragon FM at 10pm this Sunday Night and we've got some more to give away. That Jack Daniels is a nice man, Welsh too!